Welcome to CultCelebrities.com, the end-all resource for everything cult classic! We're creating the internet's most comprehensive trove of B-list celebrities, direct-to-video movies, cult films, and news from the underground film scene. Check out all of our celebrity profiles and our B-movie reviews!
Latest B-list Celebrity Profiles

John Allen Nelson is an actor best known for his role in the sword-and-sorcery Deathstalker III film, along with the famous cult sci-fi flick Killer…
Latest B-movie Reviews
Latest On The Blog

Scream queens: the term comes from the 1950s and before, when movies like the Universal Monster pictures cast beautiful women who were slightly one-dimensional and lacked significant depth, but screamed loudly and served as the impetus for introducing horror into the film. A fixture of horror films, as movies changed…

Today we have the pleasure of sitting down with Matt Spease, an Arkansas-based director of cult horror films. We reviewed one of his latest films, 2018's Then The Night Comes, a couple months back. Tell us a little bit about your beginnings. Your origin story, so to speak. How did…

Although it seems like most cult classic B-movies come from the 1980s or 1970s, when filmmaking finally came into reach of younger directors with lower budgets, there are a lot of films in the 1990s that are equally as – bad good? The 70's and 80's were, in large part,…

After seeing some amazing interest in producer/director Matt Spease's Then The Night Comes, Stu and I decided we needed to review another one of Dark Night Film's recent movies, Mark of Death. The latest sequel to his Evil On Queen Street series of films, a lengthy series of movies which…

You hate them or you love them, or more likely, you love to hate them. Sword and sorcery movies are a unique genre. They have some of the most clichéd characters and plot lines ever: but that's sort of the point. A humble barbarian who comes in to save the…

I've seen a lot of low-budget films. Late-night binges on direct-to-video finds. Countless backwoods film festivals. Student films made on shoestring budgets in back alleys in Hollywood during film school.  Usually, these films lack a lot. They lack polished story, compelling characters, originality, or simply aren't very self-aware.  Then The…

Our post this week comes from Cult Classic Mania, a cult movie podcast dedicated to low-budget films for B-movie fans. Visit Cult Classic Mania's Facebook page to keep up with new updates (a new episode every Monday!). Now in it's fourth episode, you can listen to Cult Classic Mania on…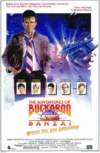 All I could remember was some sort of really fast car, and an alien egg on the bottom of the vehicle, and the fact that the car was so fast it went through a mountain – or so I remembered. For most of my life as a child, I had…
What is Cult Celebrities?
CultCelebrities.com is creating the internet's largest resource for cult film. Founded by two movie industry buffs (an 80s movie trivia master and a film-school dropout), we're out to catalog the unknown, direct-to-video, lost cult classics everyone else has forgotten about! Learn more about the cult on our about page.