The 1983 film Deathstalker is a low-budget sword and sorcery film. It is the first in a series of four fantasy movies (Deathstalker II: Duel of the Titans, Deathstalker III: The Warriors from Hell, and Deathstalker IV: Match of Titans) produced in Argentina throughout the eighties and early nineties. The film has become a cult classic.
Deathstalker was produced by the famous low budget film producer Roger Corman, the first of nine movies he produced in Argentina during the 1980s because of the low cost of production. The film was only loosely written, and most of the dialogue and action was improvised on location.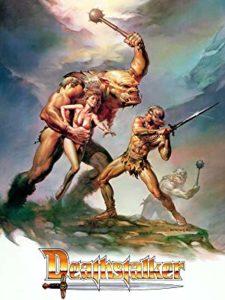 Deathstalker (1983) Movie Plot
Deathstalker, a warrior played by Richard Hill, obtains a quest from a witch to find three magical items, the Three Powers Of Creation (the Sword of Justice, the Amulet of Life, and the Chalice of Magic), and learns that he will be facing Munkar, a sorcerer played by Bernard Erhard.
Deathstalker finds the first item, the sword, inside a cave guarded by monsters. Defeating an ogre and gaining a traveling companion (a small imp), he then decides to journey onwards to Munkar's fortress in order to find the remaining two objects.
Deathstalker hears about a battle tournament from a warrior named Oghris, the victor of which will win Munkar's realm. On the way to the tournament, Deathstalker runs into a warrior named Kaira (played by Lana Clarkson). After a typical sword-and-sorcery style romantic encounter, she joins the group on the way to the tournament.
However, Munkar is secretly planning to use this tournament as a way to eliminate all potential warrior threats from his realm. Munkar attempts to get all of the attending warriors drunk at a party and entertain him with his harem of slave women. Munkar enchants one of his henchmen into an alluring woman named Princess Codille (played by Barbi Benton) but Deathstalker finds out the truth. Kaira is killed by the henchman as his spell wears off.
It comes to light that Oghris was expressly commanded to bring Deathstalker to the tournament by Munkar, however as a friendship has developed between them, Oghris no longer wants to kill Deathstalker. Though Oghris tries to convince Deathstalker to leave the tournament, he refuses and they duel. Deathstalker is forced to kill Oghris.
On the last day of the tournament, Deathstalker faces the last remaining opponent, an ogre. After conquering the ogre, Deathstalker attempts to claim the prize, an amulet. Munkar sends warriors to fight him, but after battling through them he finds the harem and releases the slaves. Deathstalker kills the amulet holder and then faces Munkar himself. After a fight with various illusions, he claims the last magical object.
Although he has gained the right to rule Munkar's realm, he destroys the three magical objects and declares that he does not want to rule. Munkar is dismembered by a crowd of his own former slaves.
Gallery
Gil has a bachelor's in communication, and attended film school in Los Angeles. He worked in film & media production for several years, traveling to over 45 countries, before cofounding a marketing company. Obsessed with feel-good 80s teen comedies, sword-and-sorcery films, and gritty sci fi noir, Gildner is a fan of the weird and campy. His favorite films include Blade Runner, Alien, Mad Max, and Drive.