Richard Hill (also known as Rick Hill) is an actor best known for his role in the sword-and-sorcery Deathstalker films in the 1980s and early 1990s.
Biography
Rick Hill was born on January 26th, 1953 in Harlan, Kentucky. He attended Georgia Tech, where he played on the football team. After college, he played in the Canadian Football League for a short period. He then transitioned into acting.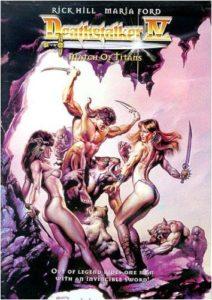 The films he is most known for are the cult classic 1983 fantasy film Deathstalker, in which he played the starring role. He returned for the starring role in Deathstalker IV: Match of Titans in 1991.
After starring in a series of films and over 50 episodes of network TV, he directed television shows for a period before transitioning into screenwriting.
He is now a writer, serving as a script doctor and ghostwriter for television shows. He has also since published a New York Times best-selling book called Pete Rose, My Prison Without Bars.
Filmography
Richard Hill has starred in these feature films:
Dawn! (1979) as Ken
Hardrock Rally (1979) as Armbrewster
Angels on Campus (1979) as Steve Fitzpatrick
The Great Hazzard Hijack (1981) as Phil Ackley
The Eighth Part of the Village (1982) as Lee Chambers
Now Pitching, Sam Malone (1983) as Tibor Svetkovic
Deathstalker (1983) as Deathstalker
Ding, Dong, the Boss Is Dead (1983) as Matt
Kunoichi (1984) as Ron Gordon
The Devastator (1986) as Deacon Porter
Warrior Queen (1987) as Marcus
The Body (1988) as Vince Campbell
Fast Gun (1988) as Jack Steiger
Shoot to Kill (1989) as I.A.D. Officer #1
Dune Warriors (1990) as John
Eye of the Widow (1991) as Chris Jones
Deathstalker IV: Match of Titans (1991) as Deathstalker
Poisoned Harvest (1993) as Al Striker
The Custodian (1993) as Constable Hanrahan
The Nostradamus Kid (1993) as JMV Leader
Class of 1999 II: The Substitute (1994) as G.D. Ash
Dear God (1996) as Parade Father
Full Engagement (1997) as Kent's Brother
Inferno (1997) as Trevor
Liar Liar (1997) as Jail Guard
What Goes Around… (1998) as Russell
Gallery