Dawn Wildsmith was born in Carmel, California on June 11th, 1963. She is an actress best known for her roles in such films as Surf Nazis Must Die (1987), Warlords (1988) and Beverly Hills Vamp (1989).
A Sprinkling of Career Highlights
1986     Wildsmith donned the small screen with some choice direct to video VHS classics, Dark Romances (Volumes I and II). Costarring both with Brinke Stevens.
1986     Dawn starred in Star Slammer with Michael Sonye (otherwise known as Dukey Flyswater) and Ross Hagen.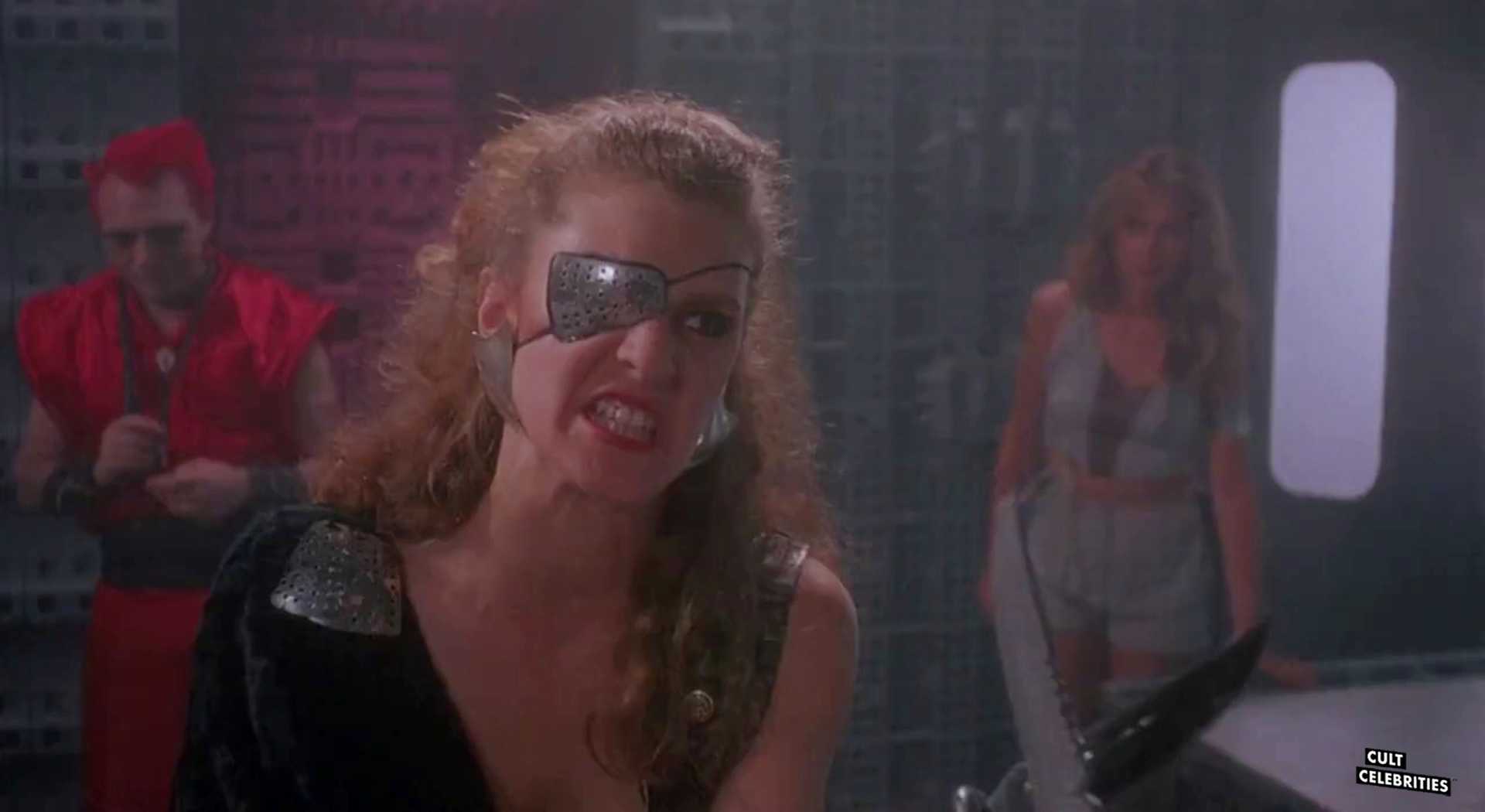 1990     Diggin' Up Business with Linnea Quigley whom she paired up with on a number of film projects.
She was born into a family of hippies, and her father owned an art gallery near the beach. She started modeling, and then shifted into film.
Dawn started her acting career in 1985 and continued acting for another ten years, starring mostly in horror and sci-fi films.
She became known as a scream queen, and then retired from acting in the mid 90s to become a surrealist artist.
Wildsmith painted for the next twenty years, but re-entered the world of acting in 2018 for a film called Lake Of Shadows.
Dawn Wildsmith Filmography
Evils of the Night (1985) as Alien Commander
The Tomb (1986) as Anna Conda
Star Slammer (1986) as Muffin
Armed Response (1986)
Surf Nazis Must Die (1987) as Eva
It's Alive III: Island of the Alive (1987) 
Cyclone (1987) as Hanna
Commando Squad (1987) as Consuela
Evil Spawn (1987) as Evelyn Avery
Hollywood Chainsaw Hookers (1988) as Lori
Deep Space (1988) as Janice
Warlords (1988) as Danny
Future Force (1989) as Roxanne
The Phantom Empire (1988) as Eddy Colchilde
Beverly Hills Vamp (1989) as Sherry Santa Monica
Terminal Force (1989) as Delilah
Nerds of a Feather (1989)
B.O.R.N. (1989) 
Alienator (1990) as Caroline
Diggin' Up Business (1990) as Sable Coat
Wizards of the Demon Sword (1991) as Selena
Jack-O (1995) as Sorceress
Lake of Shadows (2018) as Virginia Price
Dawn Wildsmith Photo Gallery
Interests include:: coffee, jackhammers, grandma's medicine cabinet and sympathetic yawning.