The 1983 film Spacehunter: Adventures in the Forbidden Zone is a science fiction post-apocalyptic film shot in 3D. Although rated low by critics, the film has garnered a cult status. It was released one week before The Return of the Jedi, and marketed as a 3D film in order to differentiate itself.
Spacehunter Movie Plot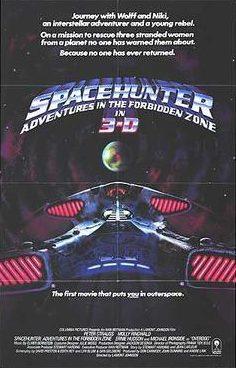 The movie begins with a space liner being destroyed by some form of space lightning. Only three women survive, which are played by Cali Timmins, Aleisa Shirley, and Deborah Pratt.
These women escape in an ejection pod, and land on a nearby planet, but are quickly taken hostage by the natives. The natives drive a sort of pirate-style sailboat on railroad tracks. The world is post-apocalyptic and feral.
Meanwhile, the bounty hunter Wolff, played by Peter Strauss, hears that a reward is being given for the safe return of the three women. He changes course to the planet, along with his engineer (played by Andrea Marcovicci).
After landing on the planet and engaging in a battle between two groups: the Zoners, a marauder band, and the Scavs, a nomad group. The Zoners capture the women and flee, using rocket-powered personal hanggliders.
In the midst of this, Wolff's engineer is killed, but it is revealed that she was actually a robot. Wolff then captures a young nomad girl (played by Molly Ringwald) and decides to continue on his quest to rescue the women.
The nomad girl guides Wolff into the Zone, which is where the marauders live. It is ruled by an overlord named Overdog (played by Michael Ironside), along with his henchman The Chemist (played by Hrant Alianak). The women are enslaved in a labyrinth-like prison, running obstacles and mazes for the entertainment of the overlord.
In the middle of the rescue mission, the nomad girl is captured by the Zoners Overdog, who is a cyborg with huge metal claws, is hooked up to a machine that recharges his energy from the life energy of the nomad girl. Wolff manages to short out the entire fortress's electrical system and escapes with all of the women.
Gallery
Gil has a bachelor's in communication, and attended film school in Los Angeles. He worked in film & media production for several years, traveling to over 45 countries, before cofounding a marketing company. Obsessed with feel-good 80s teen comedies, sword-and-sorcery films, and gritty sci fi noir, Gildner is a fan of the weird and campy. His favorite films include Blade Runner, Alien, Mad Max, and Drive.