Michelle Moffett is an actress best known for appearing in Deathstalker IV and Hired To Kill, among other movies in the 80s and early 90s.
Biography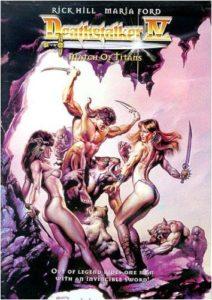 Michelle Moffett first appeared in a television series named Deadly Nightmares in 1987. Her first major role was in the film Hired To Kill in 1990, where she appears along with a large number of other B-movie regulars.
The role for which she is most known is as the villain sorceress Kana in Deathstalker IV.
Filmography
Deadly Nightmares (1987) as Lorri Ann
Hired to Kill (1990) as Ana
Hollywood Boulevard II (1990) as Mary Randolph
Deathstalker IV: Match of Titans (1991) as Kana
Wild Cactus (1993) as Maggie
Warlock: The Armageddon (1993) as Celine
Indecent Behavior (1993) as Carol Leiter
Sins of the Night  (1993) as Kay
Almost Hollywood (1994) as Desiree
NYPD Blue (1994) as Judith Krasky
Crazy Love (1995) as Whitney
Michelle Moffett Photo Gallery