Carla Herd Sands is an actress known for her role in Deathstalker III: Warriors from Hell (1988) and Wild Zone (1989). She is now a diplomat and philanthropist.
Biography
Carla Herd was born on October 13th, 1960. She grew up in Pennsylvania and attended Indiana University of Pennsylvania, where she was a finalist in the Miss IUP beauty pageant in 1979.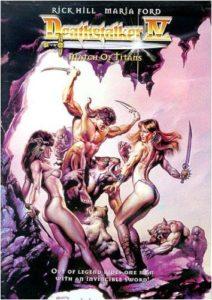 She acted in television shows throughout the 1980s, and starred in several films in the late 1980s. She later retired from acting, and obtained her Doctor of Chiropractic degree and practiced chiropractic medicine throughout the 90s in Southern California. In 1998, she married the real estate developer Fred Sands, who sold his real estate company to Coldwell Banker for more than $100 million.
In recent years, as a prominent socialite she has been active in philanthropy and politics. In 2017, she was named the U.S. Ambassador to Denmark.
Carla Herd Filmography
Carla has starred in these films and television shows:
Monsters (1991) as Dolores
Wild Zone (1989) as Nicole Laroche
Deathstalker and the Warriors from Hell (1988) as Carissa/Elizena
1st & Ten: The Championship (1987) as Tina Sawyer
The Bold and the Beautiful (1987) as Alex Simpson
Gallery
Gil has a bachelor's in communication, and attended film school in Los Angeles. He worked in film & media production for several years, traveling to over 45 countries, before cofounding a marketing company. Obsessed with feel-good 80s teen comedies, sword-and-sorcery films, and gritty sci fi noir, Gildner is a fan of the weird and campy. His favorite films include Blade Runner, Alien, Mad Max, and Drive.